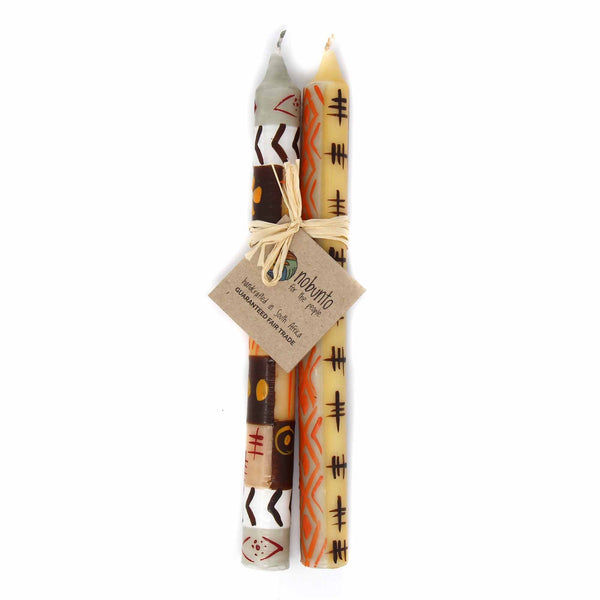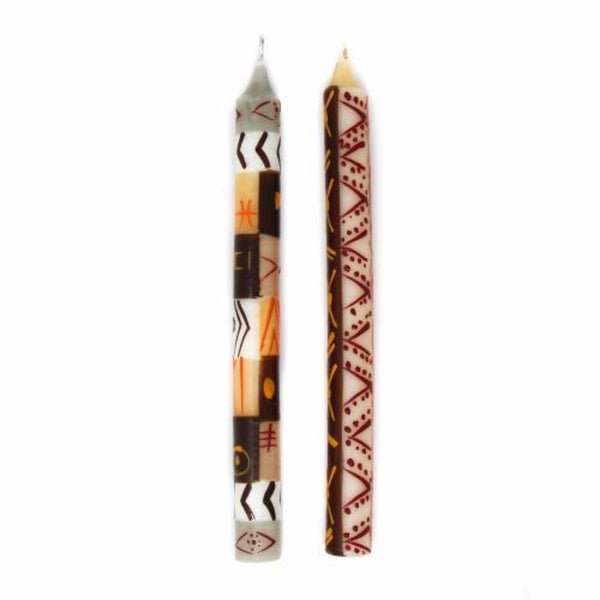 Akono Pillar Candles | Set of 2
These globally-inspired hand-painted candles are smalls works of art. Crafted by artisans in South Africa, each candle is hand-poured and then individually hand-painted. Each design name is derived from a special African word that is brought to life through the color and patterns which reflect the culture and influences of South Africa. The style images pictured illustrate the general design, but note that each candle is one of a kind.  A truly unique and beautiful gift for hostesses, housewarming, wedding, anniversary, and more that make a striking addition to every home and a beautiful conversation piece!
Product Features:
Design Meaning: "Akono" is inspired by a variety of typical African patterns, the landscape in our environment and reinterpreted in colors that meet us on our daily walks in nature or along the endless roads.
Set of 2 Gift-packaged Dinner Tapers.
Candles measure approximately 9-inches tall.
Unscented, high-quality, fully-refined paraffin wax from Germany.
Non-toxic color pigments and natural wicks.
Individually hand-painted. Designs will have differences, but will be consistent in colors and icons that reflect the style.
Burn time averages 10 hours. 
High melting point of  58°- 60°.
Box made from recycled materials.
Use care when burning candles. Do not leave a burning candle unattended; snuff out flame when done burning; do not move burning candle; always use a candle holder when burning.